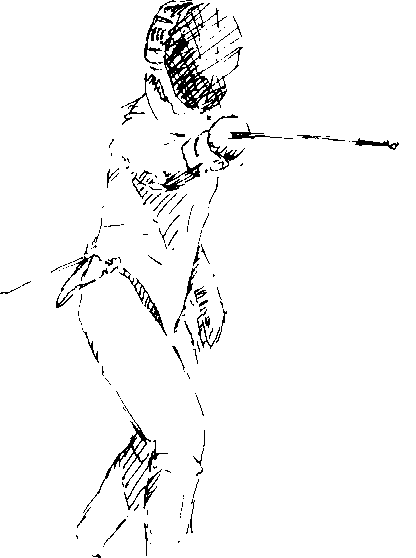 Where can I buy fencing equipment?
There are no major fencing retailers or wholesalers in the Texas panhandle area. There are, however, approximately 25 vendors listed on the USFA website and on the Fencing Equipment Vendors page in this website. Most of them wiill work with you in providing what you need. It's always a good idea to compare prices and talk to experienced fencers or a good armourer before you make any purchases.
What do the hand signals mean that referees use during fencing bouts?
The referee uses hand signals to assist both the fencers who are competing and spectators to know exactly what action he has seen on the fencing strip and who gets the touch. Often it is very loud in the venue and the hand signals are necessary so that the fencers understand exactly what the referee has said in his statement of the action. Below are many of the hand signals that you will see in a bout on a fencing strip.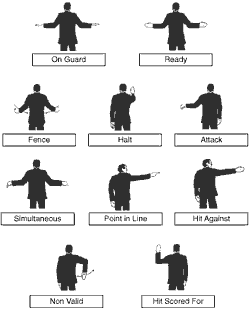 What does it mean to say that a tournament is sanctioned by the division?
A "sanctioned" tournament is one that the division recognizes as being in compliance with all USFA rules and has been approved by the division to be on the division tournament calendar. If a tournament fails to comply with the required rules, the division may withhold sanctioning and any new classifications that might have been earned by the fencers will not be approved by USFA.
So what is required of the fencing clubs to have a sanctioned tournament?
All fencing clubs in the Plains Texas Division should be advised that they are REQUIRED to confirm USFA membership of all competitors if they want the Division to sanction the results of a fencing tournament that they host. You can do this in a number of ways:
1. Please check the USFA website first. If a fencer's name is listed on that site as a competitive USFA member, then the fencer's USFA membership is confirmed.
2. The fencer can show a current card identifying himself as a competitive member of the USFA.
3. The fencer can provide proof of competitive membership by an email or letter or stamped receipt of membership from USFA.
4. The Division Secretary may confirm USFA membership.
5. The fencer can join USFA at the tournament by completing a USFA application and paying the required fee. If a Division officer is present at the tournament, those membership applications and fees should be given to the officer to be forwarded to USFA.
IT IS NOT SUFFICIENT TO HAVE A TOURNAMENT ORGANIZER FROM ANOTHER TOURNAMENT CONFIRM USFA MEMBERSHIP AND IT IS NOT SUFFICIENT TO CONFIRM MEMBERSHIP BY CHECKING THE RESULTS OF A PRIOR TOURNAMENT LISTED ON ASK FRED!
If you do not insure that all fencers are members of USFA at your tournament, then you place the sanctioning of your tournament at risk.